We pride ourselves on being able to offer one of the best hunting experiences that you could have.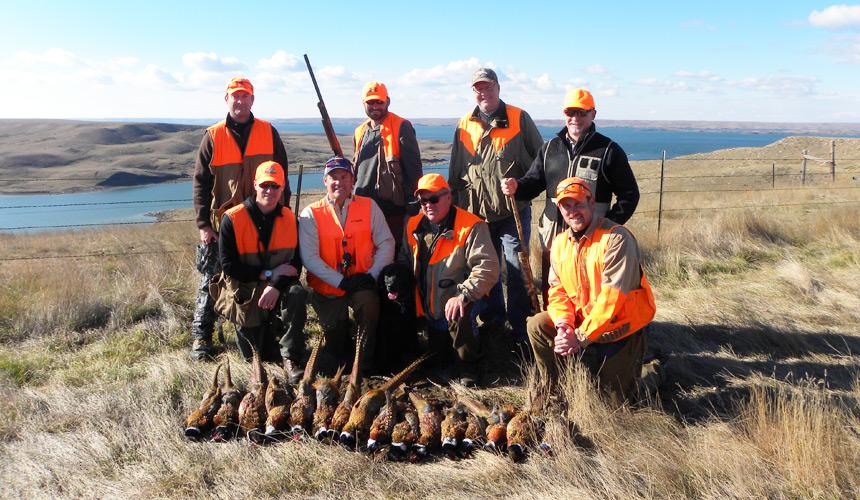 We offer a fun, family-friendly hunt that you will remember for the rest of your life. It doesn't matter if you are an old pro or new to the sport, we will make your experience enjoyable.
During a typical pheasant hunt, you will have numerous opportunities to shoot pheasants and could even find sharptail grouse or prairie chickens. We can provide lodging and accomodations for 1 to 20 people per hunting trip. Children are welcome.
Take an exciting hunting trip with amenities. We provide lodging with an awesome view of Lake Oahe and the surrounding river breaks. It's very secluded! Simply contact Byrum High Plains Guide Service for information and/or reservations.
Our Location
The land that we hunt on is located 40 miles north of Pierre, SD. This is the home and training ground of Triple B Bird Dogs. And you're welcome to bring your hunting dogs as well.
Some things you need to bring include:
• Guns & Shells
• Eye Protection
• Hunting License(s)
• Your Everyday Things (personal luggage)
• Appropriate Clothing
(Hunter Orange or Camouflage depending on the Hunt)
When I'm considering a pheasant trip to South Dakota, there are two priorities. Good accommodations and great bird numbers. Dustin and Josh have the perfect solution with their beautiful property on the edge of the great Missouri River. Their picturesque property hosts 100s and 100s of birds and the fields are the perfect size. The hunting is amazing with different fields along with a great variety of bird species. The hunts were well orchestrated, organized, and communicated by both Josh and Dustin. The lodge is clean and comfortable has a full kitchen, big TV and several LazyBoys to watch hockey or football along w wifi (a nice touch). I couldn't be happier with our trip. I can't wait to return.
M Hoffmann, Minneapolis